Enterprise-Grade Kubernetes
Management
SaaS-first scalability, security, interoperability & DevOps integrations for managing K8s across public clouds, data centers and the edge – combined with world-class support
Trusted by leading companies Rafay's Product Offerings
Rafay's Kubernetes Management Cloud was specifically designed for the needs of modern enterprises and service providers
Kubernetes Management Cloud for Enterprises
A SaaS-first Kubernetes management solution with built-in security that manages Kubernetes across your entire infrastructure. The solution helps companies standardize their clusters and govern their Kubernetes management operations.
Kubernetes Management Cloud for MSPs
Designed for the unique needs of service providers, Rafay's KMC for MSPs provides full multi-tenancy with visibility across all subtenants. The solution can be white-labeled to create new revenue streams for Kubernetes management technology and services.
Manage Kubernetes Anywhere
Our K8s management solutions range from on-premises, to public cloud, to edge use cases. Click on the links below to learn more about each: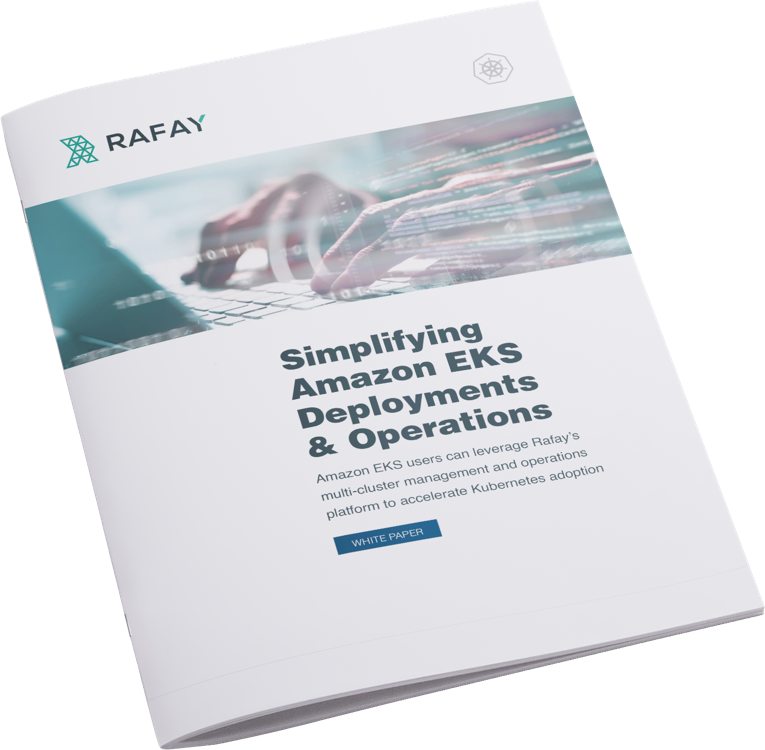 Download the

White Paper
Simplifying Amazon EKS Deployments & Operation
Learn how to accelerate Kubernetes & streamline Amazon EKS
"Easily operate and rapidly deploy applications anywhere across multi-cloud and edge environments."
"Rafay stood out from the crowd with their deep integration with Amazon EKS."
"The big draw was that you could centralize the lifecycle management & operations."
"Rafay's unified view for Kubernetes Operations & deep DevOps expertise has allowed us to significantly increase development velocity."
Proud Member of the Kubernetes Community
Rafay is a proud member of the CNCF and a Certified Kubernetes Service Provider. Our customers can leverage our Certified Kubernetes distribution and work hand-in-hand with our team of Certified Kubernetes Admins (CKAs).
Our Commitment to Open Source
Recent Posts from The Kubernetes Current Blog