Kubernetes Management Cloud for Edge
Easily Deploy & Manage Fleets of Kubernetes Clusters
At the Edge
The Kubernetes Management Cloud for Edge is a complete edge computing solution combining a lightweight upstream K8s tuned for the edge with cloud-based centralized management to easily deploy & manage the lifecycle of thousands of edge clusters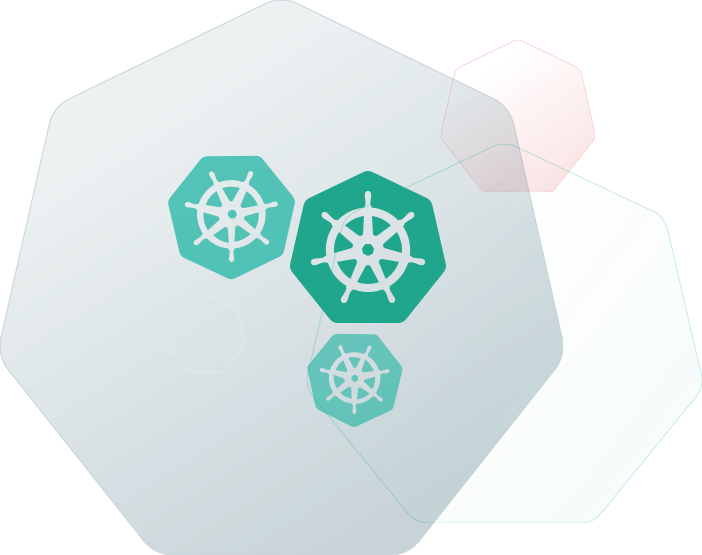 SaaS-First Approach
Be up and running within minutes, not months. Realize all the benefits that the cloud has to offer including instant fleet scalability, automatic updates and the lowest TCO for Kubernetes management for the edge.
Zero-Trust K8s Architecture
Zero-trust security has been baked into the KMC for Edge architecture for cluster provisioning, lifecycle management, workload deployment, centralized remote access to k8s and OS. Only outbound port 443 from the cluster to the controller is needed. Thus, Rafay eliminates the need to punch holes in 100s or 1000s of network firewalls, dramatically simplifying networking and operations.
Edge Scalability & Fleet Management
Managing clusters one by one is impossible for the edge. With the KMC for Edge, you can centrally manage your remote fleet collectively. Create, deploy, operate, monitor, upgrade and retire 1 or 1000+ clusters just as easily across your entire edge infrastructure and IoT devices.
True Multi-Tenancy
For service providers managing Kubernetes clusters at the Edge for multiple, Rafay delivers the only multi-organization tenancy model in the market; manage all your customers via a single cloud-native controller that can scale with your business. Manage multiple tenants or organizations providing isolation across customers.
World-class Services & Support
Partner with Rafay's deep bench of certified Kubernetes-at-the-edge experts to jump-start & customize your Kubernetes journey.
Cluster Deployment & Management Designed Specifically for the Edge
Rafay delivers a production-ready Kubernetes management platform that streamlines deployment and ongoing operations for edge use cases
Centralized Multi-Cluster Management
Deploy, manage and upgrade your globally deployed fleet of edge Kubernetes clusters from a single cloud platform.
Assembly Line Provisioning Option
Use pre-packaged QCOW and OVA images bundled with the OS, Kubernetes and management components to dramatically streamline and automate production grade, edge cluster provisioning.
Automated Lifecycle Management
Quickly provision and start using CNCF-compliant Kubernetes clusters in your edge environment. Cluster updates and upgrades are seamless with no downtime.
MKSe Lightweight Distro
CNCF compliant k8s and k3s based distributions that are heavily optimized for small footprint environments.
Role-Based Access Control, MFA & SSO
To govern access and enable separation of duties, KMC for Edge provides a seamless integration with enterprise-class Identity Providers (IdPs) such as Okta, Ping One and AzureAD. Implement separation of duties between infrastructure and application teams and hard isolation boundaries using RBAC and RBAC-enabled Projects.
Zero-Trust Kubectl Access
Empower operations and development teams to easily access clusters via a zero-trust kubectl without requiring inbound access to the fleet of edge clusters. Comply with regulatory and governance requirements -- enforced via easy RBAC configuration with an end-to-end audit trail.
Standardize Edge Clusters & Workflows
Create and easily apply edge-optimized cluster blueprints so it's easy to standardize your Kubernetes clusters deployed across your fleet of edge clusters.
Integrate & Automate
Comprehensive automation can be quickly developed by using either our Command Line Interface (RCTL) utility or REST APIs
Policy based Application Deployments
Configure and deploy containerized applications to a fleet of edge k8s clusters using high level "location" and "label" based deployment policies.
Deployment Automation
Deploy applications to 1000s of edge clusters in seconds without having to write a single line of code/script with an integrated GitOps pipeline. Configure and operate highly-automated, multi-stage deployment pipelines to manage the lifecycle of edge applications.
Centralized Visibility & Monitoring
Rafay provides turnkey, centralized visibility, monitoring, alerting and notifications spanning the entire fleet of managed clusters.
Fast Time to Market & Low TCO
Be managing a fleet of edge clusters in days instead of months. Maintain all edge clusters with little to no additional staffing.
The KMC for Edge Powers Multiple "Cutting-Edge" Use Cases
Take advantage of 5G, IoT and AI technologies within days, not months
"Easily and rapidly deploy applications anywhere across multi-cloud and edge environments."
"Rafay stood out from the crowd with their deep integration with Amazon EKS."
"The big draw was that you could centralize the deployment and lifecycle management."
"Rafay's unified view for Kubernetes Management & deep DevOps expertise has allowed us to significantly increase development velocity."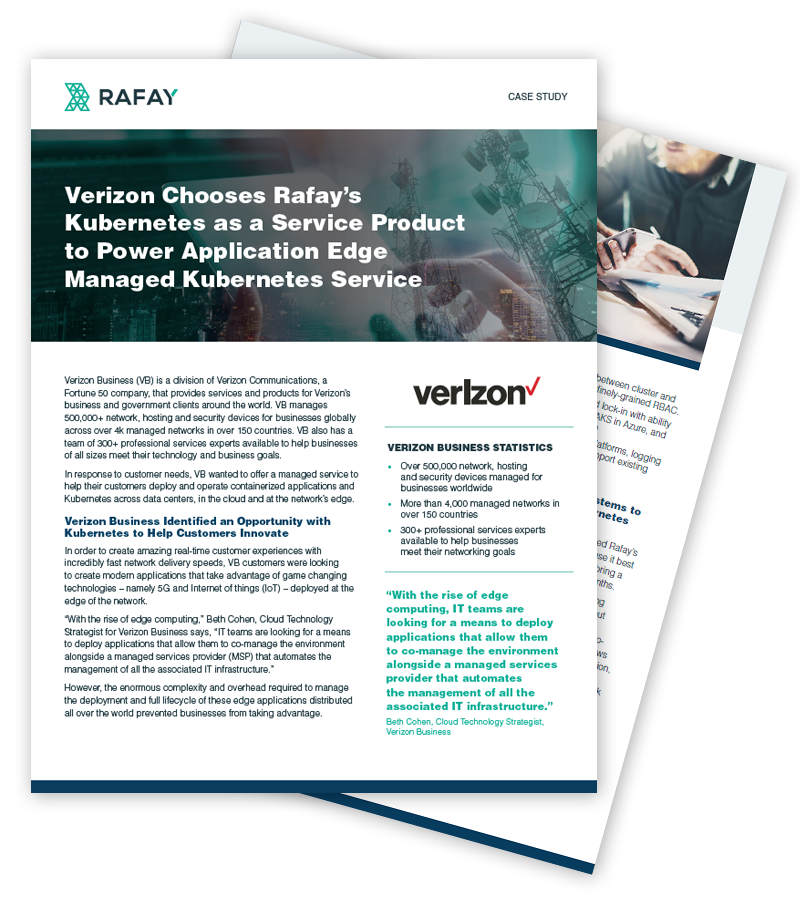 Verizon

Case Study
Verizon Chooses Rafay to Power Application Edge Managed K8s Service
Learn how Verizon created a new offering and revenue stream with Rafay