Have you heard the news of Broadcom's acquisition of VMware for $61B? I personally have had flashbacks of Dell's acquisition of EMC (which included VMware). Both of these were groundbreaking in terms of being one of the largest tech deals of all-time. Both were seemingly hardware companies attempting to become a software player.
As Broadcom is navigating through another acquisition, it begs the question, can they integrate all of these disparate technologies successfully? History suggests that Broadcom has its work cut out for it to stay competitive with this merger.
This blog will cover what analysts and survey respondents are saying about the acquisition, the market shift towards Kubernetes and cloud computing, and a path to successfully navigate enterprise modernization.
What Analysts & Users are Saying
According to Forrester, "After all, VMware customers should be concerned especially if Broadcom follows the same playbook it used for its CA and Symantec acquisitions. Following these purchases, CA and Symantec customers saw massive price hikes, worsening support, and stalled development."
Broadcom does stand to benefit from the VMware acquisition as it looks to transform into a Software as a Service (SaaS) company. But this is potentially where many concerns are coming from. It is not an easy transition and takes time to evolve from perpetual to as-a-service licensing. And I've found that the friction of shifting both existing customers (and employees – particularly sales) is the most challenging transition.
According to 451 Research's Voice of the Enterprise: Digital Pulse, Broadcom/VMware Acquisition Flash Survey 2022 listed the following concerns by respondents.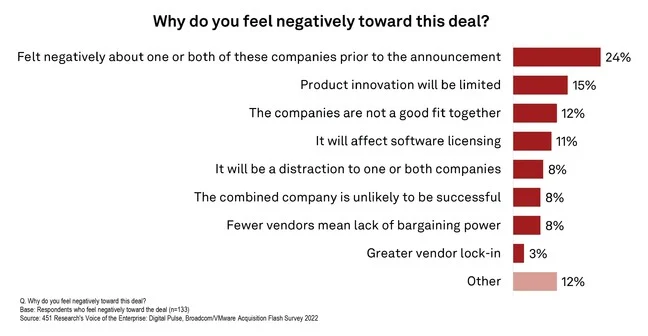 Source, The Register
Are we at the final frontier for VMware? Truth is no one knows what Broadcom's portfolio will look like in years to come but one thing seems evident, both analysts and VMware customers have expressed concerning and sometimes negative sentiments regarding the acquisition listing slowed product innovation, talent exodus, rising licensing costs, and level of support as the biggest risks.
VMware and Kubernetes
VMware changed the way we leverage compute infrastructure by abstracting the concept of a server away from the limitations of physical server hardware – optimizing the efficiency and utilization of each server and driving down the cost of compute. With VMware vCenter, virtual machines (VMs) could be deployed, scaled, moved, and managed.
As adoption of cloud computing continues to steadily rise, containers have become the way cloud-native applications are packaged, distributed, deployed, and managed. While many organizations are migrating VM-based applications to containers, VMs will be pervasive for some time.
VMware's solution to Kubernetes is its Tanzu portfolio of products and services. According to VMware, "Tanzu helps you build new apps, modernize existing ones, and evolve your software development process around cloud native technologies, patterns, and architectures."
The combination of Broadcom and VMware could end up being a very powerful force in the industry. But today's sentiment is more doubtful than optimistic. Using the same Forrester reference above, "A combined Broadcom and VMware could create a behemoth that holistically tackles any workload modernization challenge, thereby delivering the greater goal for many enterprise customers: to embrace cloud-native without overdependency on any cloud provider. Will it? Given its track record, it does not seem likely. Ultimately, if you're a VMware shop, you've got to make the call in the near future."
A New Path to Follow
Many organizations are diversifying and extending their investment from VMs to containers. By centralizing management and operations for both VMs and Kubernetes, Rafay provides the ability to accelerate the migration of legacy apps to a cloud-native architecture – without being required to update legacy apps that use VMs. Learn more about how Rafay supports converged infrastructure.
According to Paul Nashawaty from ESG, a recent Enterprise Technology survey showed VMware Tanzu's share of VMware's business went from 49% in April 2021 to 32% in January 2022. And by April 2022, that number fell to just 20%. With the uncertainty and risk in mind, now is the time to start rethinking your VMware Tanzu strategy.
If you're considering moving away from VMware altogether, keep in mind that you don't have to use another hypervisor. Rafay eliminates the VMware hypervisor and orchestrates both VMs and containers. Learn more about how Rafay streamlines VM and containerized applications.
Ready to find out why so many enterprises and platform teams have partnered with Rafay for their cloud modernization initiatives? Learn why Tanzu customers are switching to Rafay.