Customers
Leading companies use Rafay to streamline Kubernetes operations, allowing them to focus on modernization & not on their K8s infrastructure. Customers Rave About Rafay
Rafay Customers Streamline Kubernetes Operations
88%
Faster Time to Kubernetes
Learn How Leading Enterprises Easily Manage Kubernetes Operations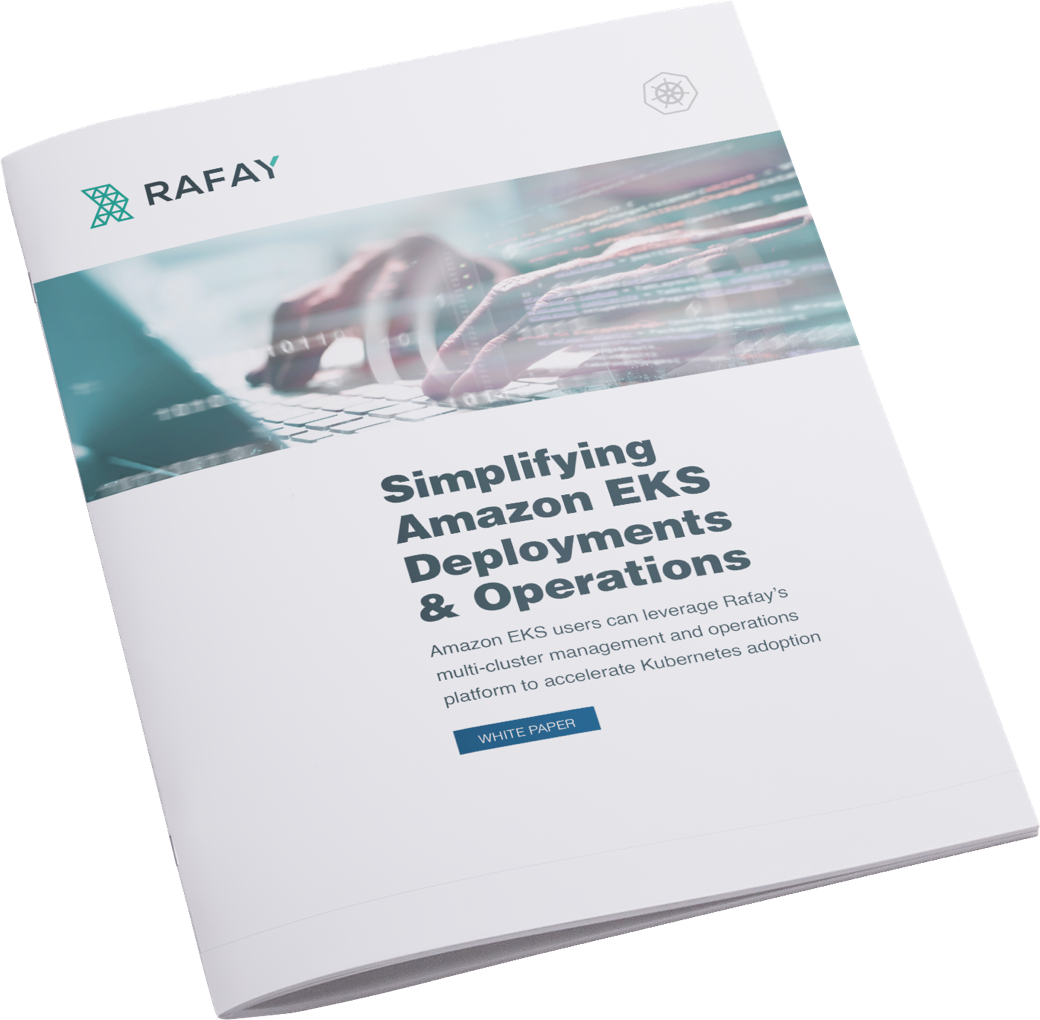 Download the

White Paper
Simplifying Amazon EKS Operations
Learn how to accelerate Kubernetes & streamline Amazon EKS
"We are able to deliver new, innovative products and services to the global market faster and manage them cost-effectively with Rafay."
"Rafay's thought leadership and white glove support has been fantastic."
"Easily operate and rapidly deploy applications anywhere across multi-cloud and edge environments."
"Rafay stood out from the crowd with their deep integration with Amazon EKS." "Rafay was up and running quickly, easy to use, and allowed us to deploy & manage standardized clusters anywhere."
"The big draw was that you could centralize the lifecycle management & operations."
"Rafay's unified view for Kubernetes Operations & deep DevOps expertise has allowed us to significantly increase development velocity."
Multi-Cloud K8s Made Easy
Rafay has been excellent to work with. They provide excellent and timely support and the features and roadmap of the Rafay solution fill much needed gaps in helping us to manage our k8s clusters across cloud and on-prem installs. They continue to improve and evolve their product and often their releases ...
- Communications Equipment in the Communications Industry
Rafay's Kubernetes Management Platform and Team are World Class
The Rafay team has been tremendous to partner with. Their Kubernetes and overall Cloud infrastructure knowledge is world class
- CTO in the Finance Industry
Great Experience Working with Rafay
Great experience working with Rafay's team, everyone in the group is super helpful. I would love to recommend Rafay's product and service.
- Engineering Manager in the Services Industry
Simplify your Kubernetes Management at the Edge
Flexible dynamic partners, ready to adapt and deliver and continuously innovate. Small company, may need to adapt to scale in production.
- Director of Product in the Communications Industry
Great Experience with Rafay
We have Rafay kubernetes onboard few months back, and have great experience with them, from the product to the customer support!
- Software Architect in the Communications Industry