Why Rafay?
A Modern Kubernetes Platform for Enterprise Platform Teams
Rafay helps platform teams centralize, unify, and standardize the use of Kubernetes across the enterprise
Rafay Makes Life Easy for Platform Teams
Platform Teams ❤️ Rafay because our solution delivers the automation developers and operations want with the right level of standardization, control and governance platform teams need. With Rafay, these teams take advantage of the following platform services:
RAFAY KUBERNETES OPERATIONS PLATFORM
Automation & Self-Service
Kubernetes Distros & Managed Services
Rancher
Open Shift
VMWare Tanzu
Upstream Kubernetes
Amazon EKS-A
Amazon EKS-A
Google GKE
Azure AKS
Infrastructure
Datacenter
Azure
AWS
GCP
Remote & Edge
How Rafay Works
Rafay's single cloud controller manages hundreds of clusters with ease while allowing software-defined isolation across any department, business group, or geography.  The service operates at 99.99% uptime governed by an SLA and is SOC 2 Type 2 certified. A self-managed version is also available.
Rafay Key Differentiators
With Rafay, enterprises leverage a single, enterprise-grade, operations platform for cluster and app lifecycle management. The platform delivers the following features and capabilities out of the box:
SaaS-First Approach
Deploy in minutes. Realize all the benefits of the cloud including instant scalability, automatic updates, >99.99% uptime and the lowest TCO for Kubernetes and application lifecycle management. Companies requiring air-gapped deployments for compliance and regulatory reasons can deploy KOP on-premises.
Zero-Trust Fabric Built-In
Rafay does not require inbound access to your Kubernetes clusters. No need to poke holes in firewalls or set up SSH access or reverse-tunnels. Zero-Trust Kubectl Access governs Kubectl activity by end-users as well as CI/CD systems with role-based access control (RBAC) and auditing of all actions.
Scalability & Fleet Management
Why manage clusters one by one? It's time-consuming and prone to errors that result in non-standard environments. With the KOP, you can manage your fleet collectively. Create, deploy, operate, monitor, upgrade and retire 1 or 1,000+ clusters just as easily across any number of multiple, heterogeneous regions, clouds and environments.
Deep K8s Distro Interoperability
Don't get locked into a single Kubernetes distro across clouds. Freely use Rancher, Openshift, GKE in GCP, AKS in Azure, and EKS in AWS. Avoid vendor lock-in and preserve your company's ability to deploy, manage & move containerized workloads between cloud, data center, and the edge.
1-Click Enterprise Integrations
Your Kubernetes app deployments can't be considered enterprise-class without integrating them with the Kubernetes, security and governance tools enterprises use most. Rafay includes integrations with Okta, AzureAD, Jenkins, Hashicorp Terraform & Vault, Datadog and a number of others that are just a few clicks away.
Market-Leading Support
When blogs and community resources aren't enough, partner with Rafay's deep bench of certified Kubernetes experts to jump-start & customize your Kubernetes and application modernization journey.
How Does Rafay Compare?
Being an operations platform for Kubernetes environments, Rafay is designed to integrate seamlessly with managed Kubernetes services from Amazon (EKS), Microsoft (AKS) and Google (GKE), and also integrates with Kubernetes platforms such as RedHat OpenShift and VMware Tanzu. In fact, by layering these Kubernetes offerings with critical automation, security, visibility and governance features, Rafay makes these platforms operationally ready for consumption by enterprises. Kubernetes is a means to an end as it relates to container orchestration – with Rafay, enterprises are able to ensure the success of their application modernization initiatives, while controlling the spiraling costs associated with DIY Kubernetes management strategies.
| Enterprise Requirement | Rafay | Rancher | OpenShift | Tanzu | Why It's Important |
| --- | --- | --- | --- | --- | --- |
| Cluster Management | | | | | Enterprise platform teams require Kubernetes operations platforms to be able to manage the lifecycle and blueprinting for managed Kubernetes services such as Amazon EKS and Azure AKS, as well as offerings such as RedHat OpenShift. This service also incorporates logs/metrics collection, storage management, secrets management, and more. |
| Native GitOps Support | | | | | K8s operations platforms should be able to integrate with enterprise CI and automation systems, as well as directly receive git triggers for cluster/app deployments. Organization should be able to perform all operations declaratively. |
| Kubernetes Policy Management | | | | | Enterprise platform teams prefer to distribute Kubernetes policies as code, and require operations platforms to natively support OPA policy management and application across their cluster fleets, along with visibility into policy violations across the fleet. |
| Zero-Trust Security | | | | | Whether its application deployment or kubectl access, enterprises expect zero-trust security connectivity. This should work across clouds and data centers. For zero trust kubectl access, seamless integration with the enterprise's IdP is a critical requirement. |
| Team-level Infrastructure Segmentation and Control | | | | | Flexible isolation boundaries that enable platform teams to provide self-service functionality across the enterprise for developers, QA, Ops, etc. |
| Visibility & Monitoring | | | | | Integrated visibility and monitoring capability providing deep insight into all resources in each cluster, and across clusters is a key platform requirement. Metrics must be aggregated in a central time series database and presented via intuitive dashboards showcasing both current state of resources as well as long term trends. |
| Backup & Restore | | | | | Platform teams need production clusters to be backed up regularly to protect against disasters. Operations platforms must provide this capability natively for DR purposes. |
| SaaS-Based Consumption Model | | | | | Realize all the benefits of the cloud, including being up and running immediately, regardless of whether your clusters are in the cloud, on premises, or at the Edge. The platform should be not hosted on a per customer basis, which leads to higher risk and long upgrade timelines. The platform should also support air-gapped deployment options where the entire controller can be deployed in a customer environment. |
Leverage the Power of SaaS for Enterprise Kubernetes Management
As enterprises modernize their applications, they are quickly realizing the significant increase in the cost and resources required to operationally manage Kubernetes clusters. Rafay's SaaS-first approach enables companies to gain efficiencies from Kubernetes almost immediately, thus speeding digital transformation initiatives while keeping operating costs low. Benefits of a cloud approach include:
Fast time to K8s
Gain the benefits of Kubernetes in hours, not months
Reliability & Scalability
Rafay has >99.99% uptime. Easily manage hundreds of clusters with no management of admin clusters
Zero-Trust Security
Maintain private endpoints for all Kubernetes clusters and centrally configure role-based access control
Deployment Flexibility
Leverage the cloud or deploy in air-gapped environments
Frequently Asked Questions
Why is SaaS the right consumption model for Kubernetes operations?
With Rafay's SaaS approach, enterprises can take advantage of all the benefits of a Kubernetes Operations Platform while also enjoying all the benefits of the cloud including ease of use, being up and running in minutes, no management of administrative clusters, and automatically scaling to handle hundreds of clusters.
Is the Rafay platform competitive with Amazon EKS?
No. Rafay provides a level of automation, security, viability and governance on top of EKS (and also for Azure AKS and GCP GKE). As a result, many Rafay customers use EKS and leverage Rafay to streamline EKS lifecycle management, along with application deployment and governance requirements for containerized apps running in EKS.
Does Rafay compete with Rancher?
Although Rancher delivers a number of Kubernetes cluster management capabilities, there are a number of reasons why enterprises are choosing Rafay over Rancher: Rancher is not delivered as a SaaS offering, which is the preferred consumption model for many enterprises; Rancher isn't architected with zero-trust principles in mind; Rancher doesn't support enterprise-level multi-tenancy; Rancher doesn't support native capabilities for GitOps-based application deployment, cluster backup/restore, and more. Net-net Rancher is a great tool for basic cluster automation and visibility, while enterprises are looking for a Kubernetes Operations Platform that delivers automation, security, visibility and governance capability for both clusters and containerized applications.
We already have clusters up and running. Why do we need to partner with Rafay?
Provisioning clusters is the first step on a long journey towards Kubernetes operational excellence. Even if you prefer to keep leveraging your preferred methodology for cluster provisioning, you can easily import your clusters into the Rafay platform to implement application deployment automation, cluster and application governance, zero-trust control and access, and more.
We've already built a platform in-house. Can Rafay really benefit our business?
Yes! Rafay adds to any platform critical enterprise-grade capabilities such as cluster and application blueprints, drift detection, centralized RBAC and auditability of all actions, just to name a few, across both Kubernetes clusters and their applications. Adding Rafay is a simple exercise, and our solutions team will be more than happy to show you how to reduce the ongoing development and maintenance burden associated with building an in-house platform.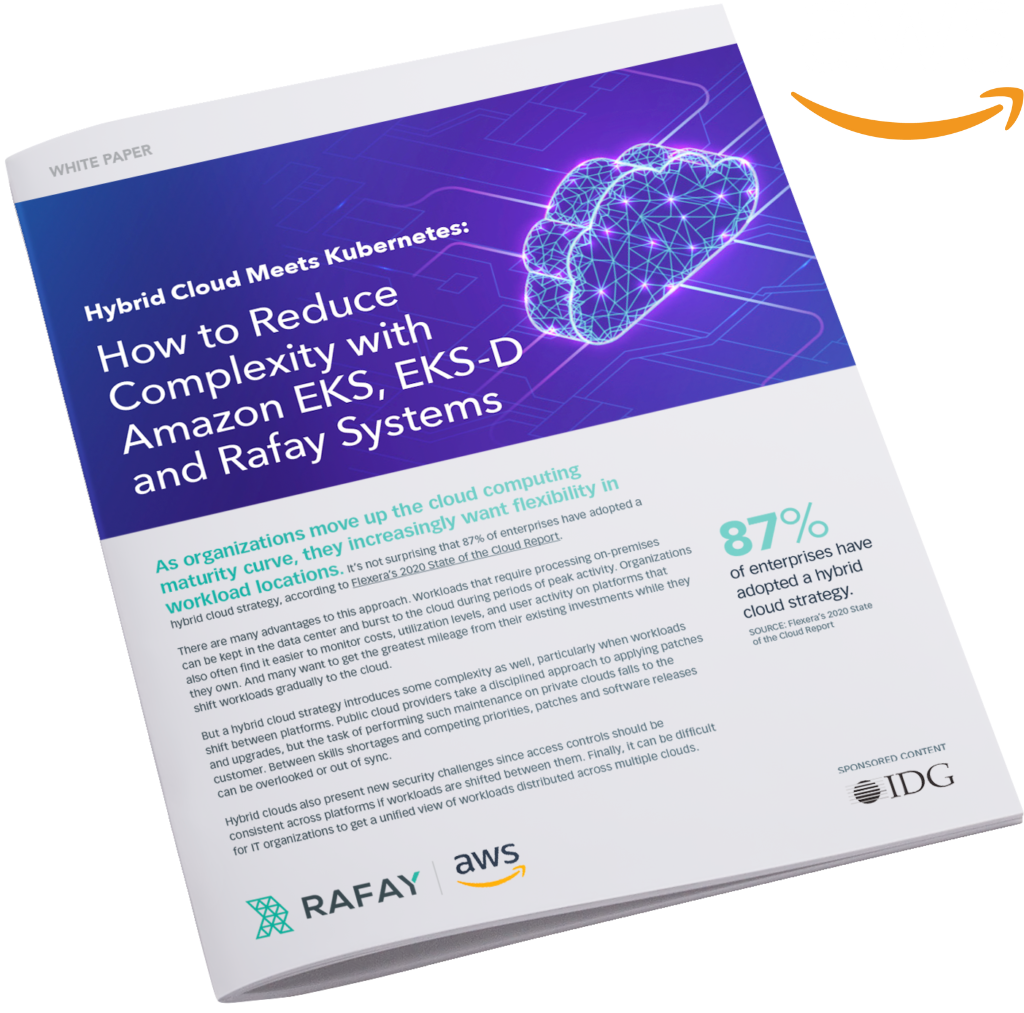 White Paper
Hybrid Cloud Meets Kubernetes
Learn how to Streamline Kubernetes Ops in Hybrid Clouds with AWS & Rafay
"Easily operate and rapidly deploy applications anywhere across multi-cloud and edge environments."
"Rafay's unified view for Kubernetes Operations & deep DevOps expertise has allowed us to significantly increase development velocity."
"The big draw was that you could centralize the lifecycle management & operations."