Rafay is the Leading Rancher Alternative
Why
Organizations Are Choosing Rafay

over Rancher

Enterprises are consistently choosing Rafay over Rancher for Kubernetes Operations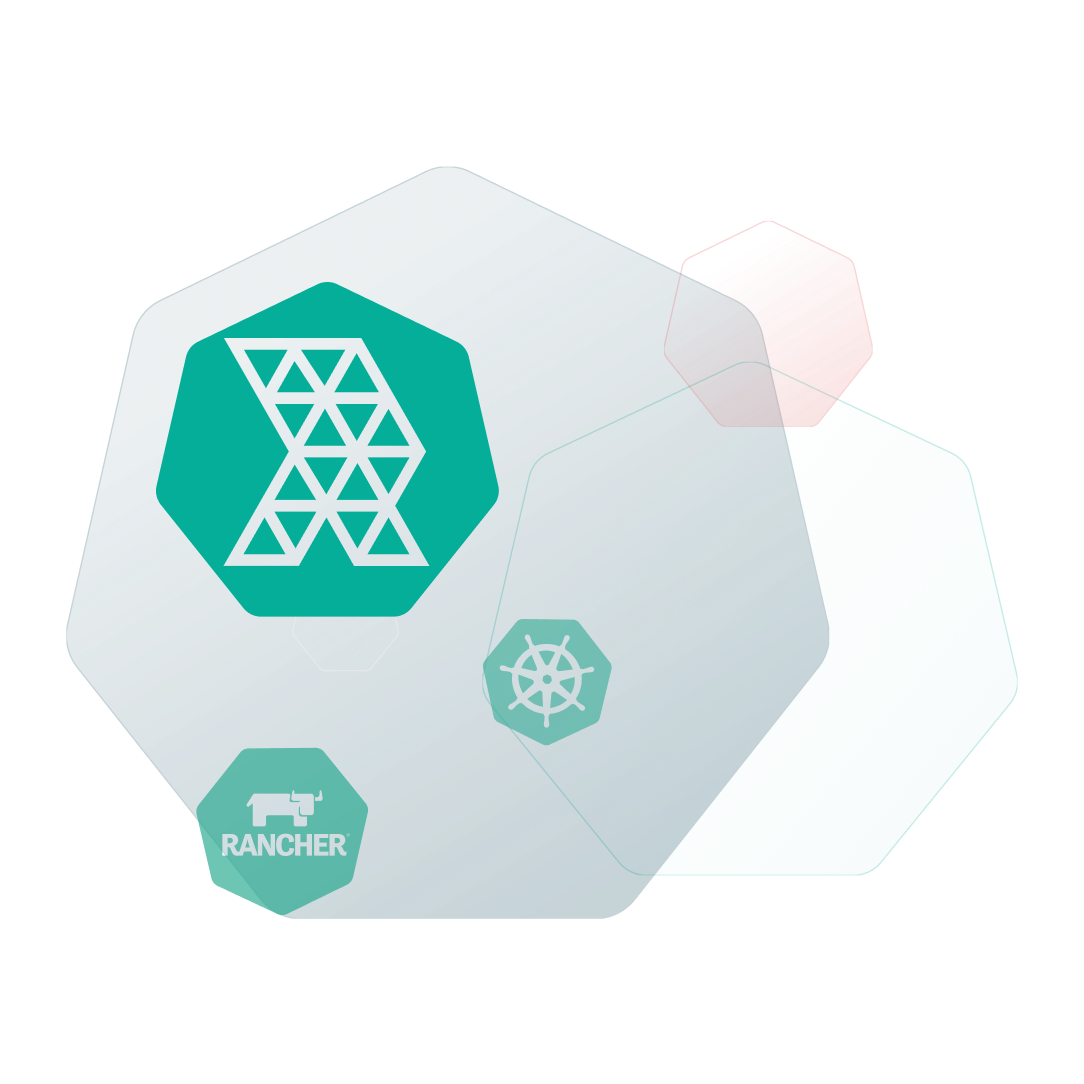 Rafay is the leading Rancher alternative:

Switch to a Single Controller for Your Entire Organization
With Rancher, customers end up running multiple controllers to maintain isolation.
Provide business units and teams completely isolated operating environments without the installation, configuration and ongoing maintenance of dedicated controllers/servers. Simplify development and app modernization by consolidating management, monitoring, and tooling with Rafay.
Switch to Simplified Governance and Drift Detection/Remediation at Scale
With Rancher, customers need to manage policies for each cluster, leading to fleet-wide inconsistencies.
Reduce operational overhead and business risk ensuring your fleet of clusters is consistent and standardized through blueprints. Streamline provisioning and management by centralizing security policy and software add-on configurations via Git.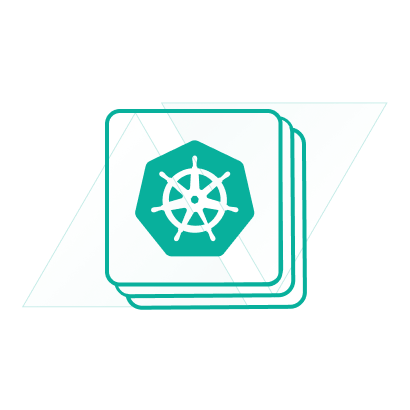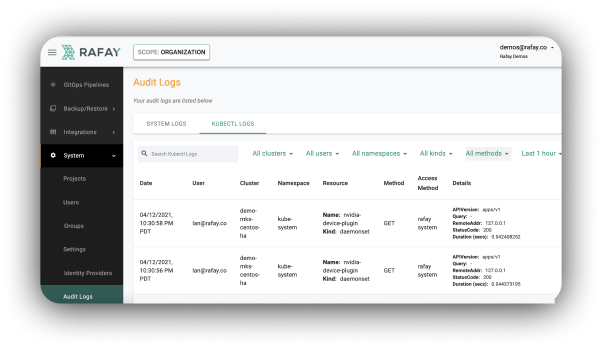 Switch to Centralized Auditing of Administrative and Kube API Activity across Your Fleet
With Rancher, customers end up implementing bespoke solutions and custom code for auditing.
Chronologically catalog activities with a centralized, immutable audit trail of all user actions including kubectl operations performed on clusters. Simplify documentation and history used to authenticate security and operational actions.
Switch to Using Every Single Feature In Your Favorite Managed Kubernetes Service
With Rancher, customers end up compromising EKS/AKS capabilities and services.
Integration for comprehensive lifecycle management from leading public cloud Kubernetes distributions such as Amazon EKS and Microsoft AKS. Benefit from the 99.95% SLAs and native services like Fargate for on-demand, right sized compute.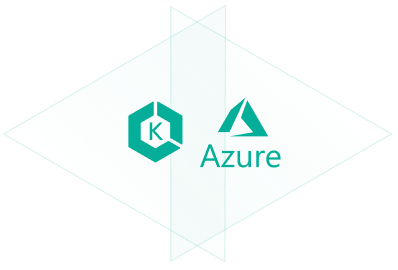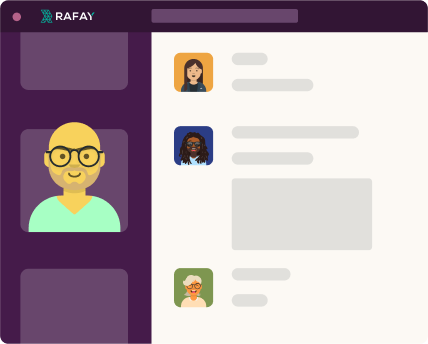 Best-in-Class Customer Success with Kubernetes and Ecosystem Experts Available 24x7
With Rancher, customers face significant support challenges, risking project delays and unhappy internal users.
Stop struggling to find and retain the expertise to manage and maintain Kubernetes distributions, tools, and infrastructures. Leverage Rafay as an extension of your team, available 24×7 with experience running Kubernetes at scale.
Frequently Asked Questions
What's the difference between Rafay's SaaS approach and Rancher's hosted software solution?
Rafay's SaaS solution is built with cloud infrastructure in mind which means that updates and maintenance are safer and easier to provide, time-to-market is shorter, TCO is lower, and governance and security of clusters and workflows are defined in the core application and easily applied across your entire fleet of Kubernetes clusters.
Rancher Says Rafay Isn't Open-Source. Is this true?
As stated in our recent announcement, we are open sourcing a few of our core services, starting with Zero Trust and GitOps. The cloud-native open-source community will soon be able to take advantage of, and contribute to, these battle-tested services that significantly reduce the complexity of securing access across Kubernetes clusters and automating deployments for modern applications.
Why is running multiple Rancher servers a problem?
Each Rancher server will manage a set of resources, such as nodes, control plane components, and monitoring and logging. If you have several controllers, you have to manage available resources on each of your environments for these functions. This will create an inefficient resource usage and result in higher costs. Additionally, management of authentication, authorization, and upgrades will have to be performed per controller/cluster set that creates complexity and can allow for human error, vulnerabilities, and potential incompatibilities.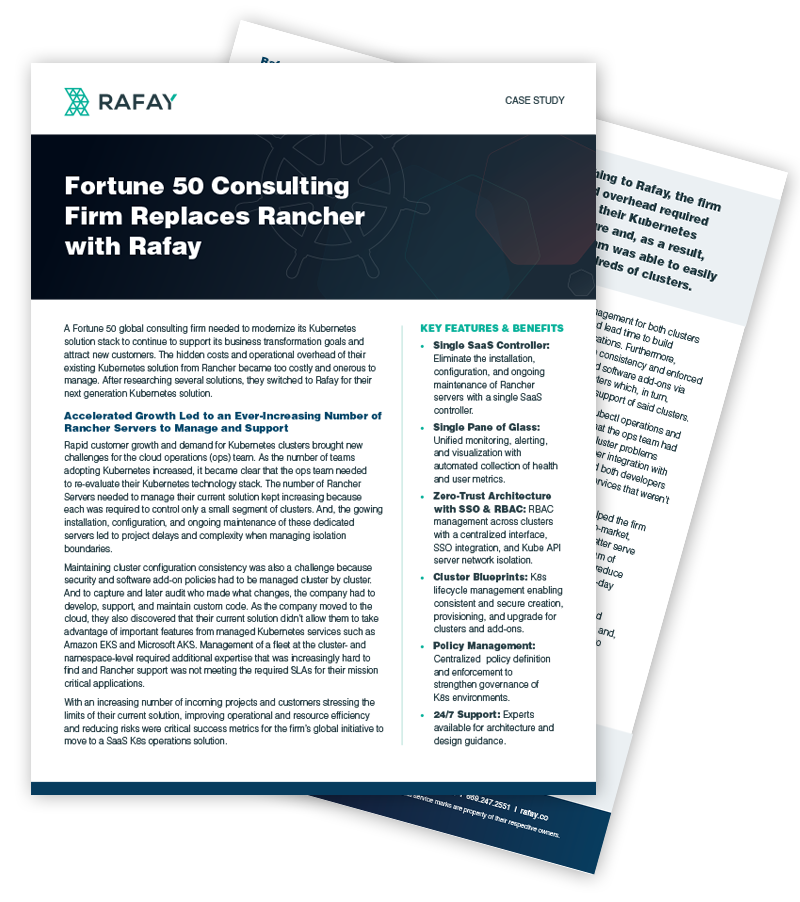 Get the Rancher Migration Case Study
Learn how a Fortune 50 consulting firm switched from Rancher to Rafay.
Multi-Cluster Management Blogs from the Kubernetes Current