Visibility & Monitoring
Reduce MTTR by 60% with Unified Visibility & Monitoring
Rafay delivers comprehensive view and health monitoring of your Kubernetes infrastructure and modern applications across data centers, public clouds and remote/edge locations. WIth Rafay, enterprises team work together better to resolve issues fast, as much as 60% reduction in MTTR.
Finally, a Single Pane of Glass Across Any Infrastructure
Work Better Together with a Unified View of Clusters and Apps Across Your Infrastructure
Visualize, monitor and manage your global fleet of Kubernetes clusters, applications and user activity
Automatically collect and aggregate critical metrics efficiently from 10s or 100s of K8s clusters operating across heterogeneous environments spanning multiple security domains
Contextual dashboards optimized for different roles in the organization (executives, managers, cluster admins, developers, DevOps) providing actionable insights into current state and trends
Reduce MTTR by 60% by troubleshooting cluster and application issues quickly even on clusters operating behind firewalls
Single Administrative Pane
A typical organization will have 10s or 100s of Kubernetes clusters that can span different clouds, distinct operating environments and business units. These clusters will host 100s of cloud native applications developed and managed by many development teams. A unified administrative pane is critical for organizations to visualize, monitor and manage their global fleet of Kubernetes clusters and applications.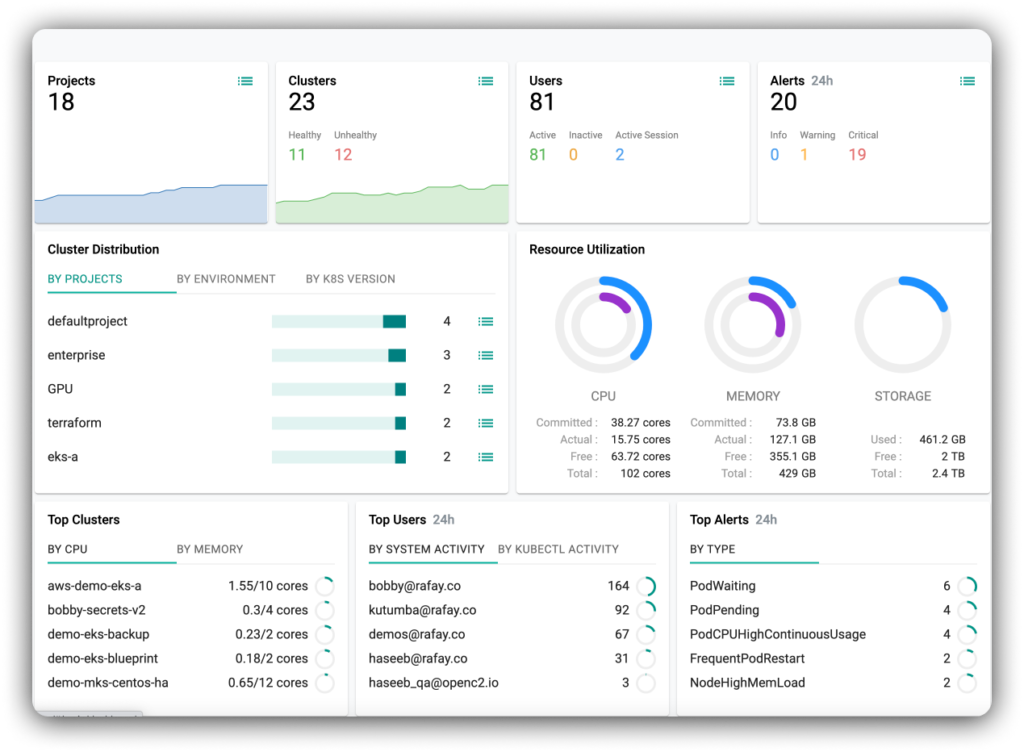 Centralized, Integrated Monitoring
When integrated monitoring is enabled in the cluster blueprint, Prometheus and related addons are automatically deployed on remote clusters. Metrics are automatically scraped and aggregated in a centralized time series database for the entire fleet of clusters spanning multiple security domains and operating environments.
Contextual Dashboards
Data from the centrally aggregated metrics is used to power dashboards providing comprehensive visibility into the entire fleet of clusters and applications. Users with different roles in the organization are provided with dashboards providing insights contextual to their role. For example, a cluster administrator will have a complete view of the cluster and activity on it. In contrast, an application developer assigned to a namespace on a cluster will only have visibility into the resources in the assigned namespace.
Diagnostics and Troubleshooting
Instantly visualize your cluster and application resources with detailed metrics and events making it easy to diagnose common problems such as crash loops, failed image pulls and OOM containers. Troubleshoot cluster and application issues quickly even on clusters operating behind firewalls using integrated web based developer tools or using kubectl. Developers and administrators with appropriate privileges can take action (describe, delete, view logs and exec ) on k8s resources such as pods and containers in a single click. A complete audit trail of all user activity is made available to administrators for compliance purposes.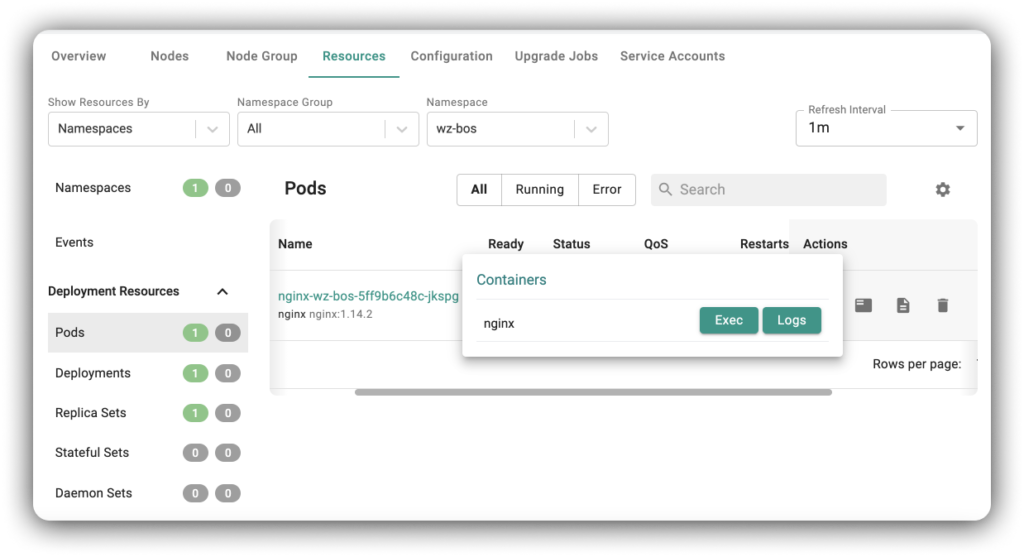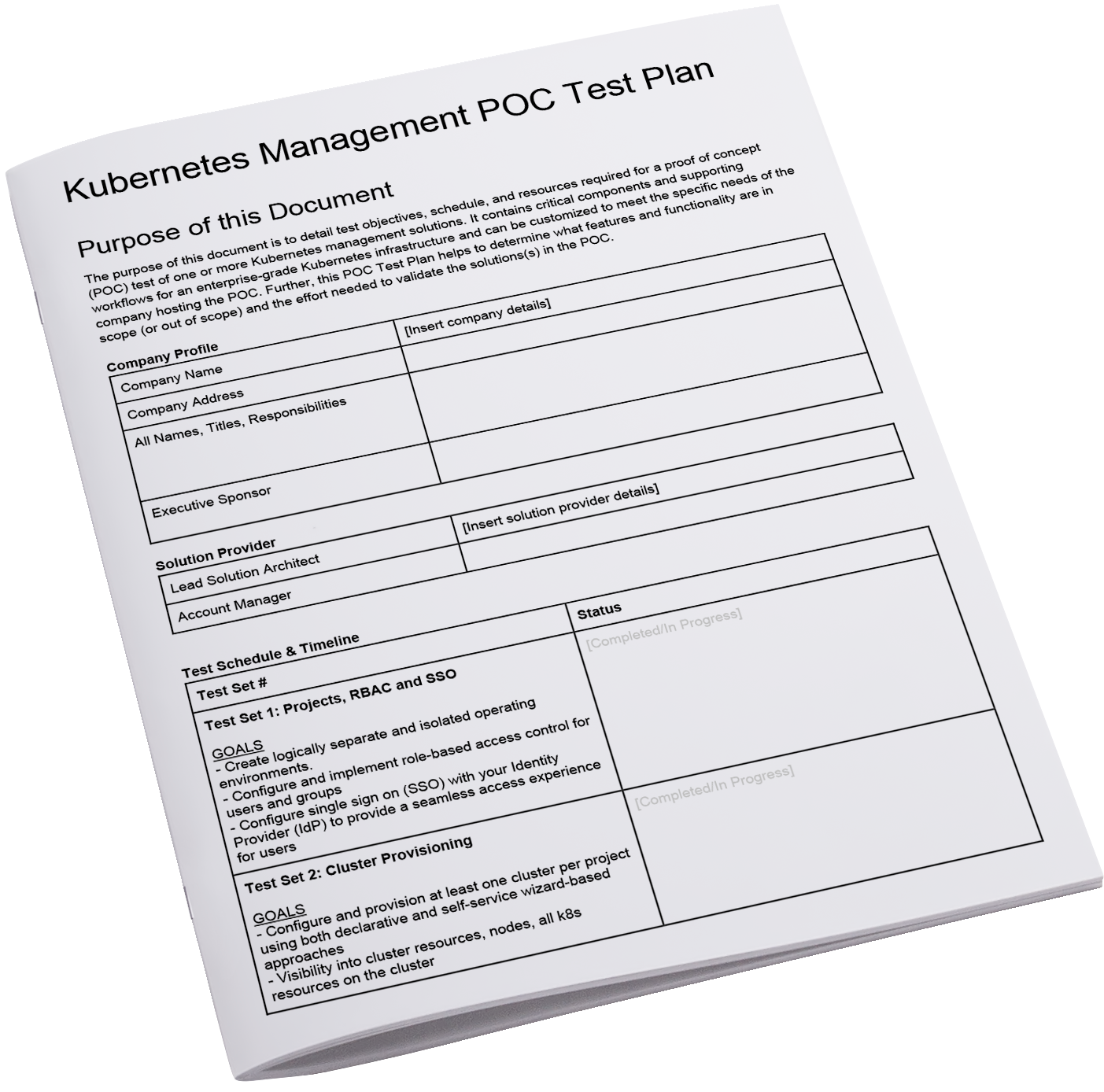 Download the

White Paper
Sample K8s Operations POC Test Plan
Customize this plan for your K8s Ops POC
"The big draw was that you could centralize the lifecycle management & operations."
"Rafay's thought leadership and white glove support has been fantastic."
"Rafay's unified view for Kubernetes Operations & deep DevOps expertise has allowed us to significantly increase development velocity."
"Rafay stood out from the crowd with their deep integration with Amazon EKS."