Preview Sandbox Service
A Secure Staging Environment with Access to
Pre-Release Features
Rafay's Preview Sandbox Service gives enterprises the ability to preview new releases, in a safe sandbox environment.
Preview & Test Features with a Sandbox
While there are many benefits to adding new products and services to your company's infrastructure, many times it's prudent to test or integrate new products and services with existing technology and workflows before they are moved in production. Now you can do this safely with a Preview Sandbox from Rafay:
Preview & test new features inside a safe sandbox
Detect and fix issues before new services are moved to production
Integrate new features with existing custom workflows
Make your Security and Operations teams happy
Pre-Launch and New Feature Testing
Many IT departments require software and services be tested in a non-production environment prior to launching them publicly to end-users. This can create a lot of work for on-premise products that require multiple installations within your company's network. This can be especially challenging for SaaS products that can release new features both more frequently and unexpectedly. How are admins supposed to properly test and implement existing infrastructure with new features if they don't have access ahead of time?
The Importance of Rafay's Preview Sandbox
Utilizing a sandbox environment within your infrastructure provides multiple benefits for IT departments to ensure their systems are properly integrated and tested. Rafay's true multi-tenant architecture enables the creation of a full-feature sandbox environment for your company. This means you have complete access to a second fully functioning version of Rafay to test features and application configurations prior to pushing them out to your full set of users. If you are trying out new features or adding new integrations with Rafay, you can also test these within the sandbox environment.
See Pre-Release Features a Week in Advance
The Rafay Preview Sandbox is unique in that it also provides access to new features one week prior to production release; these preview features are not exposed to your end-users. This means you have one week to familiarize yourself with new features prior to full release.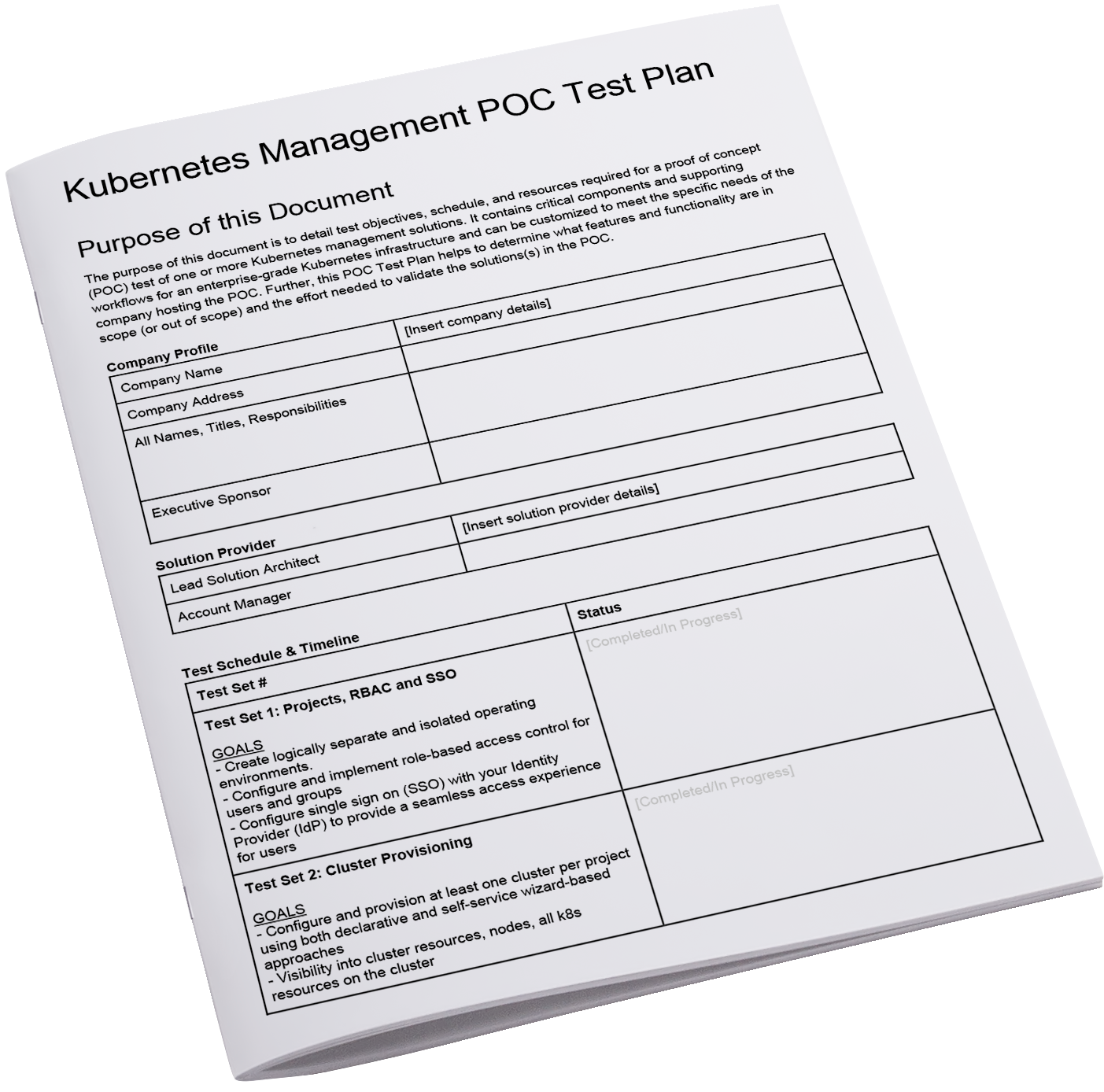 Download the

White Paper
Sample K8s Operations POC Test Plan
Customize this plan for your K8s Operations POC