Cost Management Service
Optimize Cloud Spend and Enforce Chargeback Policies on Your Kubernetes Infrastructure
Get a consolidated view of all your Kubernetes cloud spend across clusters in AWS, Azure, and on-premise datacenters with fine-grained visibility and reporting for shared clusters.
Cost Automation, Standardization, and Governance Across your Fleet of Clusters and Applications
With Rafay, platform teams can define cost boundaries for each application team that shares a cluster and enforce showback or chargeback policies driven by FinOps teams.
Get an accurate picture of your cloud spend in real-time so that you can grow your Kubernetes footprint with confidence
Reduce wasted cloud spend by centralizing visibility for every cluster across multiple cloud accounts and vendors
Optimize your cloud budget by appropriately billing internal teams based on their resource consumption of a shared cluster
Use Rafay to Consolidate Cost Visibility for Every Cluster in your Fleet
Providing visibility into the cost structure for shared clusters would require the collection and aggregation of very granular resource utilization metrics, and this is beyond the scope of what cloud vendors provide with their cost reports. Rafay breaks down silos allowing teams to gain fine-grained cost visibility across an entire fleet of clusters no matter where they live or what cloud vendor they are hosted with.
Create Custom Dashboards to View Aggregated Cost Metrics and Predict Future Kubernetes Cloud Spend
Cost Overview dashboards provide visibility and insights into various metrics generated at the project, cluster, and namespace levels. Longer-term retention of historical cost information makes it possible to anticipate future expenses.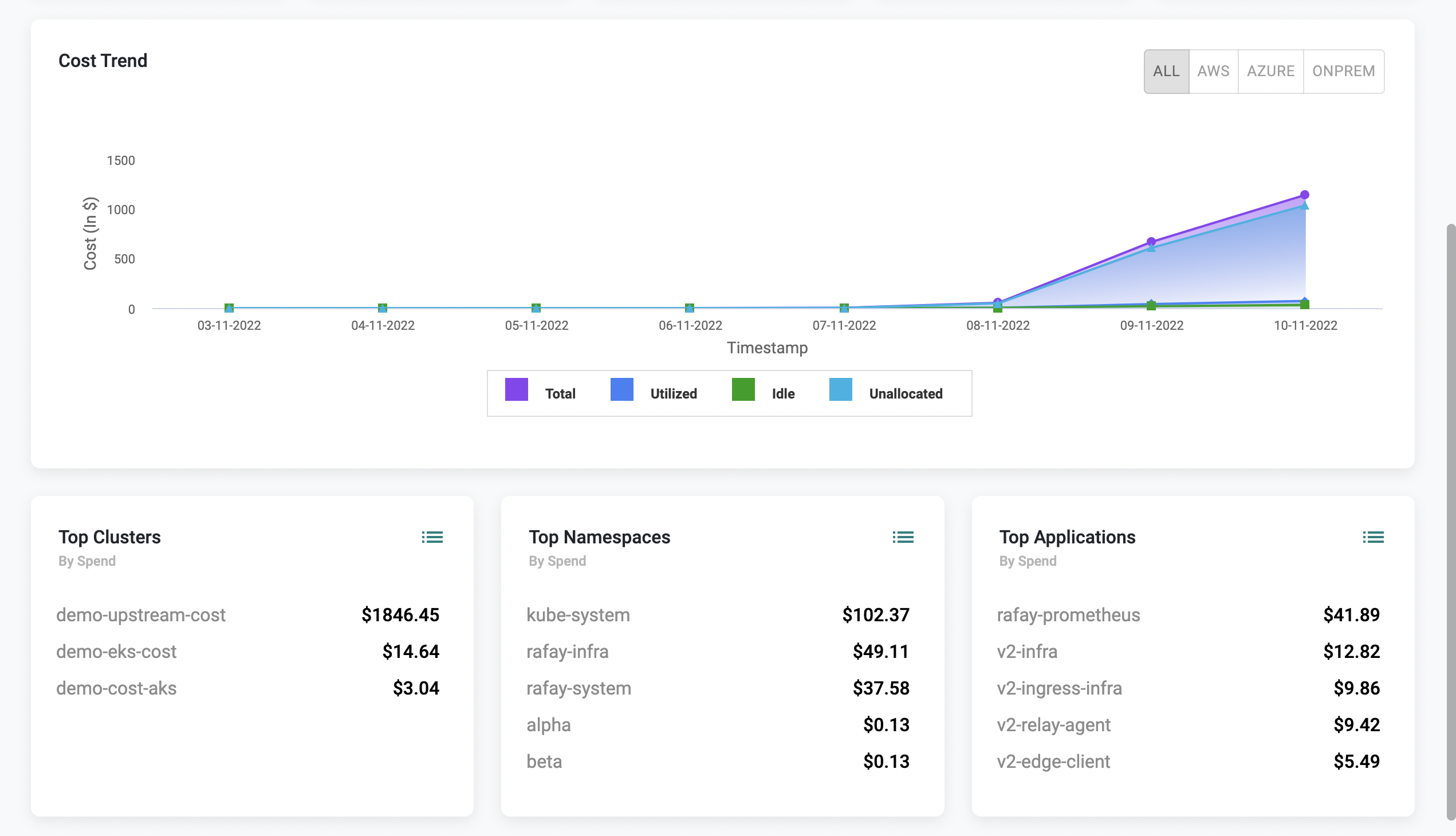 Create Chargeback Groups to Track and Bill Internal Teams Based on Resource Consumption
Every organization divides cloud resources differently. Rafay allows your team to create chargeback groups based on any logical grouping of resources. These groups can be created based on project, clusters, namespaces, or labels. Once a chargeback group is created, users can generate cost reports at their convenience.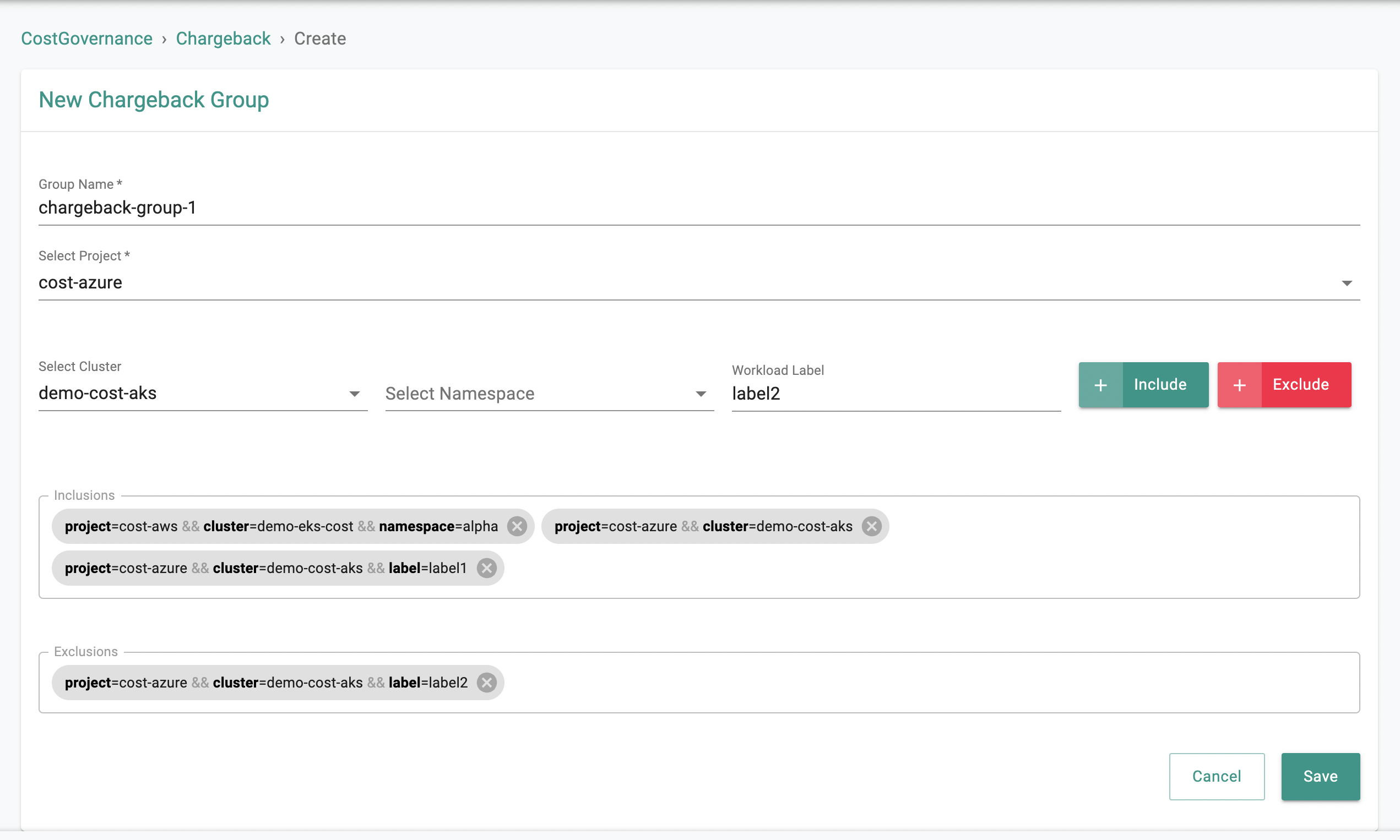 Benefits of Managing Your Kubernetes Cost with Rafay
Rafay's integrated platform makes it easy for teams to manage their Kubernetes cost from the same place they provision and secure their clusters.
Avoid the problem of yet another K8s vendor and console
Fully managed service; nothing to install, operate, or update
Centralized configuration, deployment, and visibility
Pre-integrated with RBAC giving visibility into cost metrics based on role
See the Rafay Cost Management Service in Action!
Cost Management Service FAQs
What is the value of selecting Rafay over using open-source DIY tooling?
Rafay's Cost Management service is a fully managed solution integrated with Rafay's Kubernetes Operations Platform and imposes zero burden on customers, with no additional infrastructure to install, operate, or manage.
How can Rafay's Cost Management service help allocate costs across teams in a shared cluster model?
Rafay's Cost Management service enables a flexible model to create chargeback groups based on a variety of parameters.
A couple of common models include:
– Allocation of resources and tracking spend for teams based on namespaces
– Identification of resources and tracking spend for teams based on 'labels/tags''
Download the

White Paper
The Definitive Guide to Kubernetes Automation and Governance for Platform Teams
Leverage this Guide to Maximize your Kubernetes Investments
"Easily operate and rapidly deploy applications anywhere across multi-cloud and edge environments."
"Rafay stood out from the crowd with their deep integration with Amazon EKS."
"The big draw was that you could centralize the lifecycle management & operations."
"Rafay's unified view for Kubernetes Operations & deep DevOps expertise has allowed us to significantly increase development velocity."
You Might Also be Interested In